d.i.p / uncooked
raw food is delicious
The way we eat plays a big part in our identity. When approached by strangers with superficial understanding about Asian culture and Thai food, Pattrawan feels there's more to offer. To many, Thai food generally means green curry or phadthai, however, there's much more cultural diversity within. Since moving to Europe, she has discovered similarities and differences in the way food is prepared, especially how Europeans eat raw meat and organs.
"d.i.p" (adj. ดิบ means uncooked in Thai ) is a homemade mini-zine project about the similarities of raw meat dishes in Europe and back in her home country of Thailand. The zine includes authentic Thai ingredients and recipes, allowing you to prepare the dishes at home.
🔥 PROMO OFFER 🔥
Answer PROMO QUIZ: What is you favourite raw dish??!!!? with your order to receive a special size sticker, for raw meat lovers.
DELIVERY REMARKS
The product is hand-sewn and includes freshly- roasted rice. It will be delivered within 2 weeks. For pick up: I will be in touch with you via email for an appointment.
Born in Nakhon Ratchasima in the northeastern region of Thailand, Pattrawan is currently based in Amsterdam while also working and living between Luxembourg and Bangkok. She's a co-founder of DYEAST, a branding and design studio and is currently working on branding and cooking at UNDERCOVER, an omakase restaurant in Amsterdam.
01D.I.P - PERSONAL ARCHIVES AND RECIPES ON EATING AND COOKING RAW MEAT IN EUROPE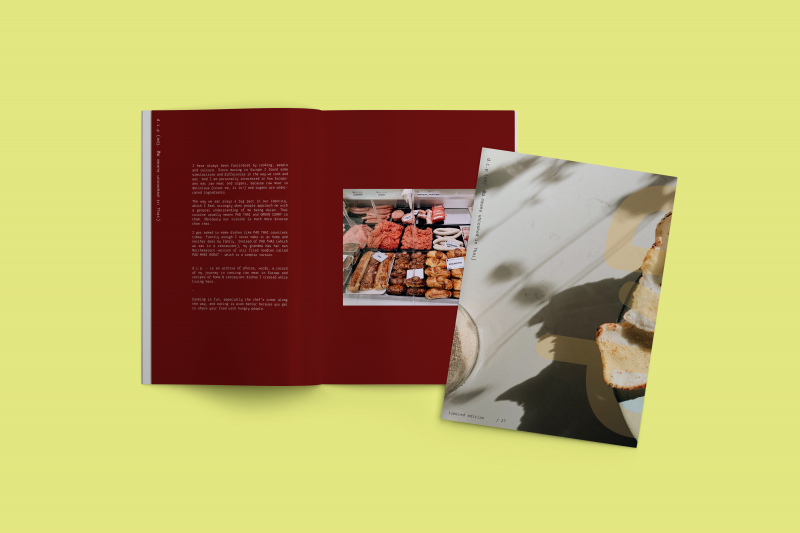 Publication / 20 pages / 300 grams old Dutch paper (off-white) / 13,5x19 cm. / limited edition of 27
Price 27 €
An archive of photos, words, a record of my journey, focusing on raw meat or tartare dishes in Europe and recipes of home & restaurant dishes I created while living here.  
In the zine:
- A personal record of photos, stories, and recipes 
- Two packs of homemade roasted rice and Thai roasted chilli powder. 
Hand-sewn / 20 pages