TUMAR
Handmade talismans from Central Asia
Tumars are handmade talismans from Central Asia that usually have a Quran verse sealed inside them. They are given for protection as a talisman and can be worn as a necklace or stored in your house. 
To Haider, tumars are one of the manifestations of the rich and complex history of Central Asia and Kazakh people among them, a blend of Muslim, Turkic, Scythian, Mongolian, and Persian arts and crafts. In Scythian art, one might notice the traces of the earliest playful designs with geometrical patterns, the mathematics of graphic design that was applied onto metal, weaved fabric, and leather. 
Mainstream conservatives in Kazakhstan consider tumars a 'pagan, blasphemous' creation. Others think that tumars are not part of Kazakh Islam, but belong to Tengrianism (a Turkic pagan religion). According to Haider, current Kazakh artistry and faith can combine both - after all, everyone has their own locally adapted methods of connecting to earth and expressing themselves. At the same time, he sees it as a deeper question of whether the sacred text can be 'reproduced' and commodified. To him, the materiality of art is absolutely the manifestation of the spiritual, and not in opposition to, or inferior to it.
🔥 PROMO OFFER 🔥
Enter PROMO CODE with your order to receive a custom message inside one of the traditional tumars for free!
DELIVERY REMARKS
If an item is ready to be shipped, the delivery will be prepared within 1-2 days, with track and trace service (the duration of shipping depends on the destination). If the delivery is within The Netherlands, it should take a few business days via Post NL. For other countries outside of the EU, the delivery will take longer - but these details will be communicated to the customer via email. 
In The Hague or nearby, pickup is possible via a scheduled appointment by email. 
For designs that are custom ordered or are still in progress, 1 week of preparation is needed, after which they are going to be shipped. 
Haider Mukhit is a digital designer and writer from Kazakhstan, who currently lives and works in The Hague.
01TRADITIONAL TUMARS OUT OF GENUINE LEATHER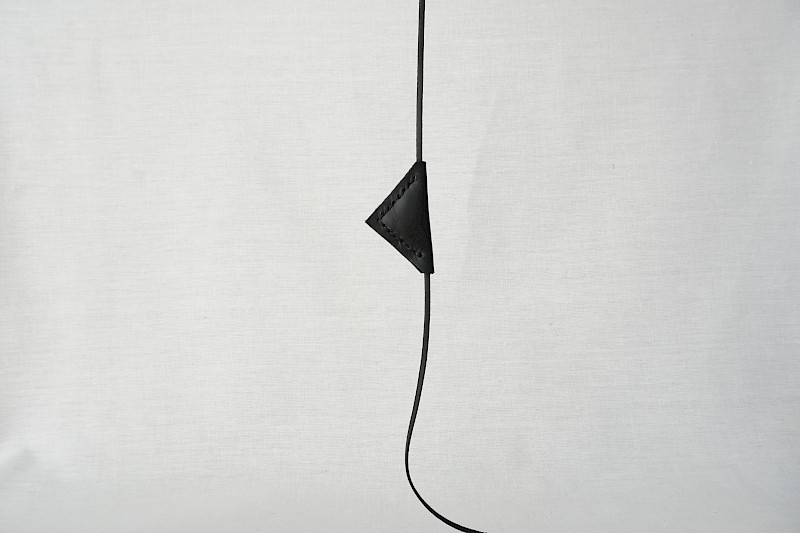 Necklace / Genuine black leather / Genuine leather string (length 65 cm), pouch dimensions 6x4x4 cm / 2021 / edition of 4
Price 35 €
These tumars are made in the recognisable 'traditional' format and sizing. The triangular shape conceals a handwritten Quranic verse. The hand stitched leather pouch has minimalist design (but can come with engraved patterns as well) - just like how Haider's grandma made it. 
Two pouches have yellow edge paint coated borders, and the other two have natural burnished edges.
02HAND PAINTED TUMARS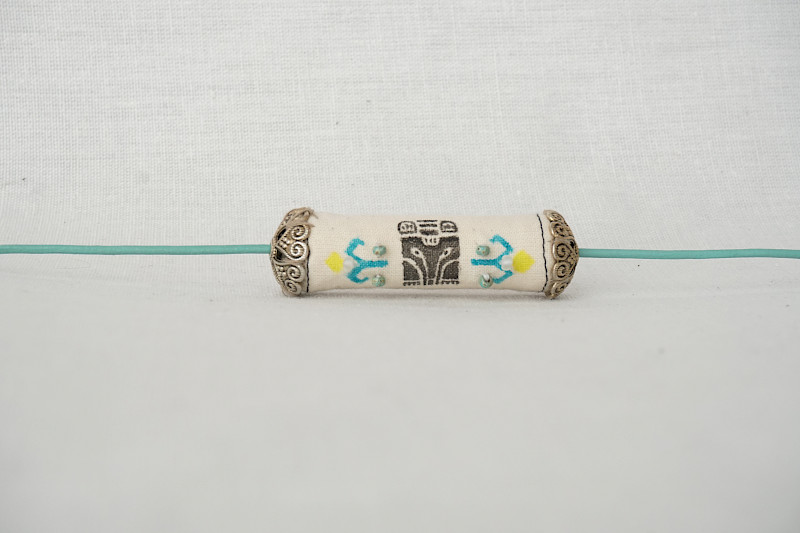 Necklace / Cotton, genuine leather, bead embroidery, acrylic paint, metal decorative elements / Tube length 5-6 cm, string length 132 cm / 2021
Price 40 €
This design features hand painted Scythian art with bead embroidery and a turquoise leather string. Mimicking the traditional cylindrical shape of the tumars that are made out of metal, this is a recreation of that form using fabric with hand painted elements. 
Please check the instagram page @haider.mukhit for more designs.
03LEATHER CHOKERS WITH TRADITIONAL PATTERNS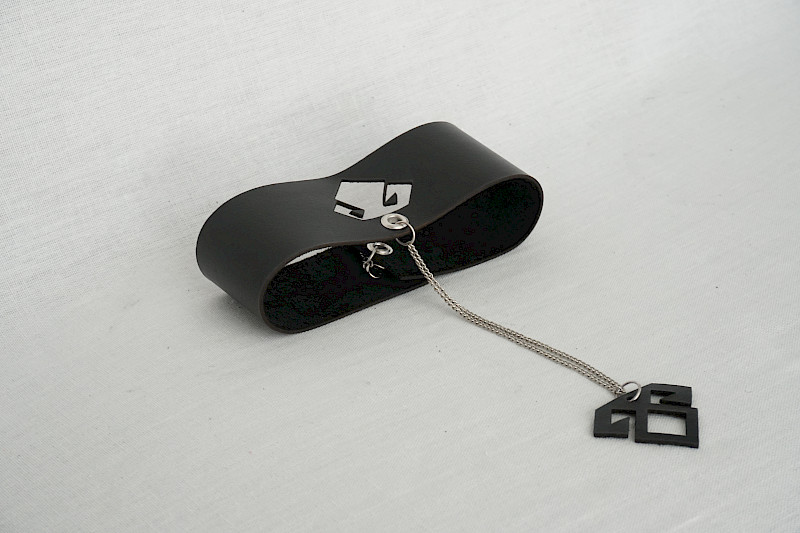 Chokers / Genuine black leather, metal eyelets and chains / Length of all chokers 35 cm, width varies from 3 to 5 cm. / 2021 / edition of 6
Price 70 €
Leather chokers with laser-cut traditional patterns, a must have for a rave / party. Stepping away from the protective talisman aura of the tumars, this is a recreation of Kazakh geometrical shapes with a modern look and feel. 
Please check the instagram page @haider.mukhit for more designs.