Dōng
A bowl of calmness
Tangyuan is a Chinese dessert consisting of a bowl of handmade glutinous rice balls, boiled and served in hot ginger broth. The name 'Dōng' is derived from the deep, echoing sound of a temple bell.
The ambition of the product is to introduce the meaning behind a simple bowl of balls through the buddhist subculture - foxi (佛系, pronounced "fuo-shee"). Foxi is buddhist in spirit rather than practice. Loosely based on the Buddhist teachings of leaving behind attachments in order to find contentment, this latest trend of Buddhist thought refers to a chillax attitude to life, specifically on not worrying too much about social pressures. Capitalism leads to depression and anxiety, but with a bowl of Tangyuan, and the slow chewing of one ball at a time, we will learn how to let go.
Tangyuan is typically consumed during winter solstice, lantern festival, and Chinese New Year, or weddings and family reunions. Tangyuan celebrates unity and wholeness - the presence of everyone in the family. The making of Tangyuan is very time consuming, as each ball must be rolled with intention, one by one. 
A bowl consists of coloured balls which are produced naturally with beetroot, pandan, pumpkin, and sweet potato.
🔥 PROMO OFFER 🔥
Enter PROMO CODE with your order to receive free stickers.
DELIVERY REMARKS
Foxi guide to making tangyuan will be delivered by email within 5 working days. Those who purchased 90 minutes of Dōng will receive an email for an appointment within 5 working days. A bowl of calmness can be picked up between 26-30 June, from 10am to 10pm at location
Born and raised in Malaysia as a 3rd generation Chinese, Tung Tung Chan was exposed to the Malay, Indian and Chinese cultures all at once. Her broad cultural knowledge is represented in the languages she speaks: Mandarin, Cantonese, Malay and English. At the age of 17, Tung Tung left home to pursue her academic interests in 6 countries: Taiwan, South Korea, The Netherlands, Austria, Finland, and China. Eating is how she establish bonds with people, as food has the magical power to transcend bigotry and provide comfort, warmth and opportunity for dialogue. Obsessed with all things round - as they signify unity, harmony, and wholeness - Tangyuan is the perfect dessert for a snacky Tung Tung. It is her life goal to introduce everyone to the (hi)story, memory, and taste of Tangyuan.
01FOXI GUIDE TO MAKING TANGYUAN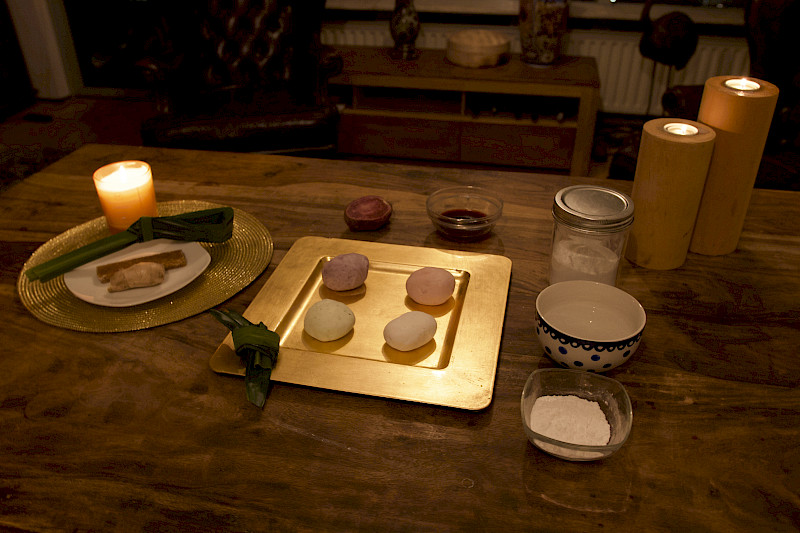 Digital Print / Playlist / 2021 / edition of 30
Price 10 €
A beautifully designed tangyuan recipe with detailed instructions, ingredients, tools and notes. You will also get a curated playlist to get in the foxi mood while you make tangyuan.
0290 MINUTES OF DōNG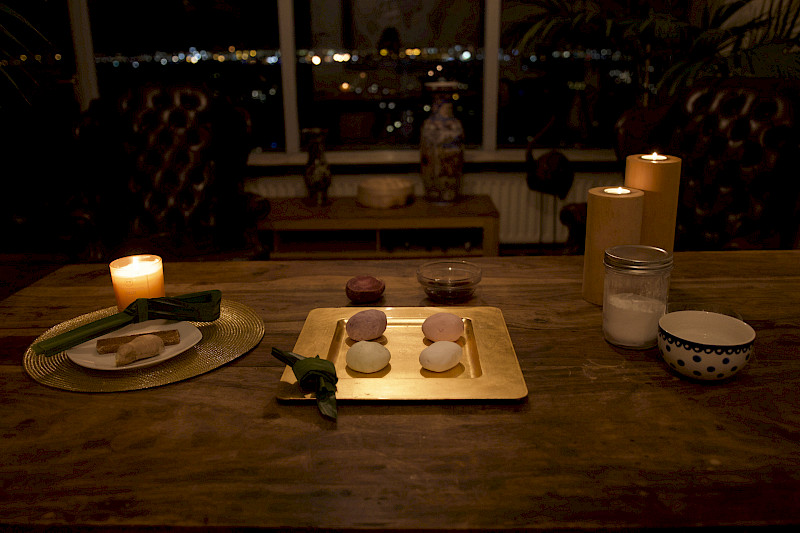 Meeting / 2021 / edition of 10
Price 50 €
Schedule a 90 minutes online or offline meeting with me for a guided foxi session to making tangyuan. I will share Tangyuan stories, play music, and make Tangyuan with you every step of the way. You can call me to grocery shop with you, if you are uncertain of what ingredients to get at the Asian supermarket. I can also do grocery shopping with you or for you at the Asian supermarket.
You will receive a beautifully designed Tangyuan recipe with detailed instructions, ingredients, tools and notes. You will also get a curated playlist to get in the foxi mood while you make Tangyuan.
An offline meeting is only possible in Rotterdam and surrounding areas in The Netherlands. If you are comfortable in visiting my sanctuary, you're welcome to my residence which is located 5 minutes away from Rotterdam Central Station.
03DōNG: A BOWL OF CALMNESS (ABC)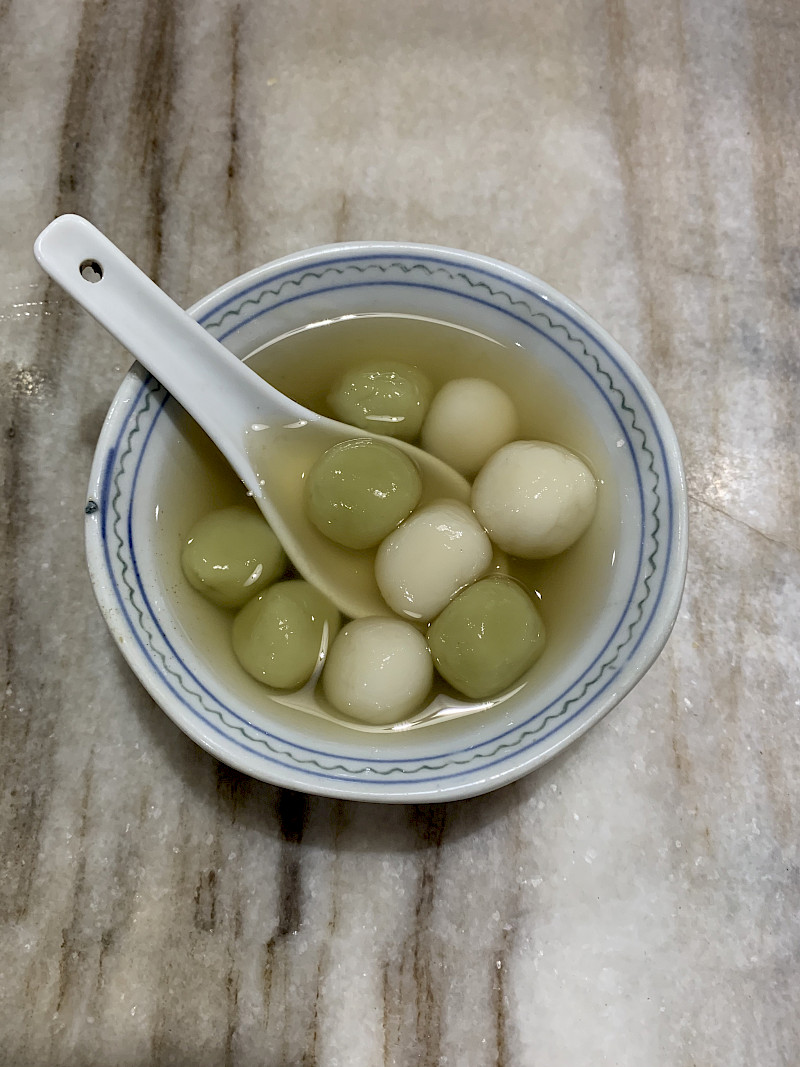 Tangyuan / 2021 / edition of 20
Price 5 €
A bowl of handmade Tangyuan with hot ginger broth. There are 10 balls in a bowl mixed with pandan (green), beetroot (pink), pumpkin (orange) and sweet potato (purple). Only available for pick up at my residence or the Rotterdam Central Station.
Only 20 bowls available.